Reprinted from University of Baltimore CEI Platform
ubalt.trustedpeer.org
Program List
View the list of all your programs by selecting Programs from the drop-down. This list includes programs which have been assigned to you and programs for which you are a Subject Matter Mentor or Mentor. If you are an administrator, you will have an extra subsection where you have access to all programs.
For most users, this list consists of a selectable set of your active programs. Select any program and you'll see the program details. (If you are currently a member of only one program, we'll spare you the list and just show you the program details.)
For Subject Matter Mentors
If you are a Subject Matter Mentor, you will see a list of programs, and the objective(s) within those programs for which you have access. Selecting a row will display program details. As a Subject Matter Mentor, you can view and update attachments to the selected objectives, as well as mark the objective complete. You will not have access to the full program.
For Mentors
For Mentors, you see a list of program names. You can expand any program to view a list of all participate. Click on the +/- to toggle the display. Shift-click, to expand or collapse all at the same time.
Each line shows the program member (which may be a @Team), with their current program status. Each block represents an objective. Mouse over any block for a tool-tip which includes the name of the represented objective.
If there are some unread Chat messages for you, there will be a small red indicator.

Select a row to access details for the program. You will be able to update status, attachments and view Chat information.
For Administrators
For program administrators, you see a list similar to that seen by Mentors, but this list will include all programs. In addition, you can add a new user (or team) to any program by clicking on Add User.
Each line shows a program member -- either an individual person, or a team name (Team names are preceded with an at sign, '@'). Select on the line to see details. From this list you can also Archive or Delete the user's program. Archiving simply removes it from view (your view and the user's view). You can unarchive it later. Deleting removes the user's program from the system and cannot be undone.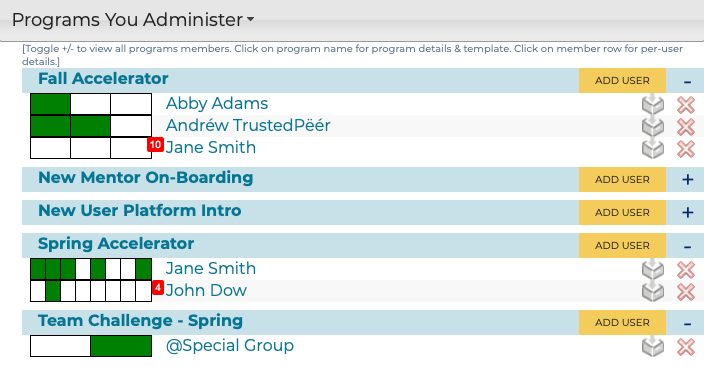 Also in the top bar, next to the Add User button, is a More... button which will expand each program line to display reported progress (if any) and, for Team Programs, member names. The team leader will be indicated with an asterisk, '*'.
At the bottom of the section are buttons which allow the administrator to:
Click on the program title to access the the program's template (where you can add / remove objectives) and to access tools to delete or archive all members of a programs.

On this secondary listing you see only this single program with all members. It has all the information from the previous listing and adds some extra management features.
You archive this program template and all existing members of the program using the Archive button. To unarchive the whole program, select View Archived Programs at the bottom of the full program list. Use this top-level Delete to delete this template and all members of this program (this cannot be undone).
If there is an Audit defined for the program, there will be a Audit button next the Archive button. The audit will result in a spreadsheet download and includes activity related to each member of the group. Audits are currently defined only for programs based on New User Training and New Mentor Training.
As with the previous program list, you can archive or delete individual program members. This list includes a Show Archived which allows to you see and unarchive individual program members.
See also:
Search:
---
Was this information helpful?
Suggestions for improvement?
Still need help?