Reprinted from University of Baltimore CEI Platform
ubalt.trustedpeer.org
Message Details
Selecting a message from the Message list, or clicking on a message link in an email or text will display the message's detailed view.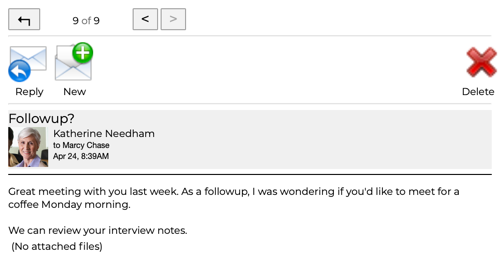 At the top of the message window are buttons to:
↵ Return to view the list of messages.
< View the previous, "older", message.
> View the next, "newer", message
Attachments (if any) are displayed at the bottom of the message.
Some messages generated by the platform help drive the work flow: there will be buttons and links within the message directing you to your next action, perhaps confirming a meeting date, or approving a request.
Creating (or Replying to) Messages
Click on the New icon

or the Reply icon

to compose a message. This creates a popup form which is further described in Creating Messages.
See also:
Search:
---
Was this information helpful?
Suggestions for improvement?
Still need help?