Team Building — Tasks
Anyone can propose a team. This help page covers:
Propose a Team
Recruit a Team
Add Members to Team's Group
Update a Team
Finalize a Team
Propose a Team
To propose a team:
A form will be displayed with the Team Editor. Fill out the information and when ready, make the post Public..
Select the View as Team link at the bottom of the form to see how it will appear to others.
Recruit a Team
Once you have made your post public, you can begin recruiting your team. This consists may consist of two parts:
Passive Recruiting

Team Posts are visible to everyone. Next to your name is a

button. Other users can send you a message through this link. You can reply to see if this person is a good fit.

Active Recruiting

Additionally, you should scan "Skills Offered", another link under Resources. Other users should be posting mini-résumés. If any user seems like a good fit, message them using the link next to their name.
Add Members to Team's Group
As you identify members for your team Add them to your Team's page, by updating the Team Members field on the Team Editor. You can only add people who have already logged into this platform. If you'd like to add someone not already on the platform, have them login (if Single Sign-On is supported) or have your administrator add them.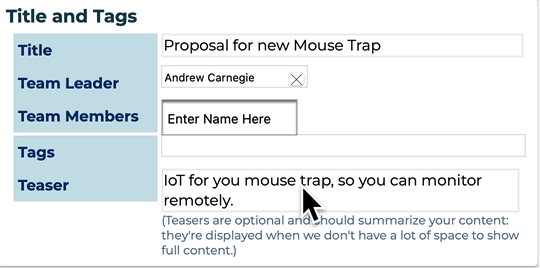 Update Team Proposal
As you build your team, you may want to update your listing. For example, if you find you're not getting good applicants, consider wording changes to your proposal.
You may also add names of people who have joined your team. This may be advantageous for additional recruiting. (Some platforms will automatically add all team members to your listing. If yours does not you can simple edit-in the information.)
To update your proposal, use Home - My Content, and select the name of the team you're looking to change. This will display the same form you used to create your team. Edit your changes. There is no need to save as update are immediately visible. You can temporarily hide your proposal, if you like, by unselecting the Public checkbox.
Finalize a Team
Once you've built your team, you can either hide it, by making it not public, or at least indicate you're no longer looking for new members. Do not delete the team as that will remove your ability to add the team to a message or meeting.
See also:
---
Was this information helpful?
Suggestions for improvement?
Still need help?